The following quotes were selected by members of the "Mr. N Club," Hoshi's long-time fan club, as some of their favorites from his novels and essays.
If you buy a small disaster and keep it as your own, it may very well protect you from a bigger one.


Human thought is faster than light.


If you look at incidents as news, they're ephemeral. But if you look at them as contradictions to humanity, they never grow old.


While we inherit pathos from our past, we should strive to gain humor in our future.


Ambiguity is the best solution to a problem that's too difficult to solve.


Forgetting is the secret to longevity.


"Absolutely" is a warning sign. It means "Don't fully trust this."


Reality is singular. The fictitious worlds are many. From them, we reexamine the one.*


Chitchat has value because it is useless. If you want something useful, buy a book.*



Quotes marked with * are from his novel "The Whim Quotient." The others are from his essays.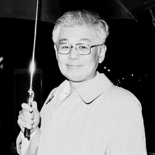 Photo courtesy of Shinichi Furukawa (Mr. N Club)